Before joining the Army,
Snow Job
was a member of the U.S. Olympic Biathalon team. He first enlisted for the privileges and special training his status as an Olympic champion gave him. But after some time, Snow Job surprised every public relations officer by asking to join the G.I. Joe team, and he was accepted! His first mission with the team took place in Alaska. Snow Job and the rest of the team foiled Cobra's attempts to poison the Alaskan Pipeline and steal plutonium. On that mission, Rock & Roll found out that Snow Job got his nickname for being a con artist, not a skier. He tried to scam Rock & Roll out of some money and made him look like a fool. It's not known if Rock & Roll ever got even.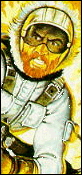 Later on, Snow Job was one of the Joes involved in the capture of Cobra Commander. Unfortunately, the Commander escaped with the help of his bodyguard, Storm Shadow. Months later, Snow Job and Torpedo engaged in a battle with a Cobra base on a small island, piloting the Joe hovercraft. There, he and Torpedo beat the Cobras again and again, leaving their base in shambles. But what the two Joes didn't realize was that the Cobras had kept the secret that they had been ordered to protect. That mission led to the creation of Cobra Island. Soon afterward, Snow Job was one of the many Joes to fight in a battle with Cobra in the Gulf of Mexico. Cobra Island was created when Cobra tricked the Joes into bombing a faultline that caused the land mass that would become Cobra Island to be thrust up out of the ocean depths. Snow Job was injured in the battle, but was stationed as a gunner on the Joes' landing craft. Their mission to push Cobra off of the island before it became a sovereign nation failed. A few months later, Snow Job was one of the Joes involved in the invasion of the Cobra-controlled town of Springfield. Snow Job was a part of many other missions including an operation to neutralize a cache of nerve-gas found in a fifty-year-old Nazi bomber trapped in a glacier.
A disastrous mission into Eastern Europe led to the toughest five months of Snow Job's life. Along with Stalker, Quick Kick and Outback, Snow Job travelled to the Soviet bloc country of Borovia. The mission was top secret and they were told that the state department would disavow all knowledge of their mission if they were captured. A series of events led the Joes to be captured, with only Outback escaping into the sewers of Borovia. He had been ordered to get out of the country and ask for help. Stalker stayed behind since Snow Job and Quick Kick were injured, and they were his responsibility. The government did in fact disavow all knowledge and the three Joes were thrown into a Borovian gulag for five months. They were treated harshly and Snow Job was at one point beaten after another prisoner overheard him and Stalker planning an escape attempt. Snow Job may have died in that prison if not for an illegal rescue mission led by Snake-Eyes, Scarlett and Storm Shadow. When the Joes returned home, Outback felt guilty for leaving the others in Borovia. Quick Kick and Snow Job told Outback his job was to get out and tell everyone back home what had happened. "We couldn't walk," Snow Job told Outback. "What were you going to do, carry us all across the border? You don't have a cape and a pair of tights, do you? No, man...you did right!"
During the Cobra Island civil war, Snow Job was one of the few Joes who were not part of the operation. When the members of the team were unrightfully taken into custody, Snow Job and several other Joes went underground. They organized a mission to rescue Hawk and General Hollingsworth when they were arrested for acting without orders and entering the civil war. During the rescue, Hawk and Hollingsworth were cleared of all charges and the corrupt generals responsible were exposed. On a following mission into Alaska, Snow Job and a small group of Joes joined forces with the Soviets' October Guard to destroy a Cobra base in the middle of an ice flow. During his time on the team, Snow Job also served as a rifle instructor. Many of Snow Job's subsequent missions remain classified, but he stayed on the Joe team until it was disbanded in 1994.

After the Joe team was reinstated in 2001, Snow Job helped stop Cobra agents trying to carry a nuclear weapon into the United States over the Canadian border. Months later, Snow Job headed into Tibet as backup for a team investigating a hidden Red Ninja retreat where Cobra Commander and Storm Shadow had been hiding. A short time later, members of the Joe team fought Cobra forces that were drawn into an attack on a train guarded by the Joes, believing that Destro was being held prisoner onboard. At the battle's end, Hawk was shot in the back by Cobra Commander and paralyzed. In Hawk's absence, the Jugglers began to take control of the team to reign it in, if not disband it altogether. Eventually, the team's roster was cut down to only a dozen Joes, and Snow Job was one of many reassigned to other units. After the remaining Joes stopped a plot by Cobra to unleash the weapon known as the Tempest, and defeated a new threat, the Red Shadows, the military again disbanded the team. One year later, the Joe team was reformed with a smaller roster of active members. Snow Job, like most former Joes, is a reserve member of the new team. He was called back to duty to shut down Cobra's illegal oil-drilling operation in the arctic.