Wednesday, 20 February 2008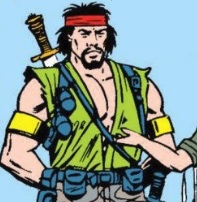 BIG TEP.
A bandit chief in a small country in Southeast Asia. He was also a known criminal involved in smuggling and extortion, among other things. Big Tep started a revolt against the rule of General Lom, the country's communist dictator. He tended to frighten farmers and villagers into supporting him. He eventually became a real threat to Lom thanks to Destro, who sold him weapons and vehicles, as well as a small group of advisors from his army of Iron Grenadiers. General Lom was given assistance by the Soviets' October Guard to stop Big Tep's uprising.
Members of the Joe team -- Chuckles, Scarlett, Iceberg and Snake-Eyes -- got involved in the struggle when Snake-Eyes stopped some of Big Tep's bandits from beating up an old farmer. The bandits who survived their first encounter with the Joes exaggerated their numbers and brought a small army of bandits and Iron Grenadiers to the old man's farm to stop them. They were met there by the October Guard. The Iron Grenadiers chased off the Soviets, leaving Big Tep and his men to find the Joes, who were hidden in the farmer's house. When Big Tep threatened to kill the old farmer, the Joes came out of hiding and easily dealt with the bandits. Big Tep was killed, and his revolution presumably died with him.
(SM 18)