Sunday, 12 September 2010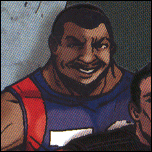 THE FRIDGE.
The code name used by William Perry, born in Aiken, South Carolina. During his time as a member of the NFL's Chicago Bears football team, Perry worked with G.I. Joe as a physical training instructor. Though he maintained some ties with the team, The Fridge was unavailable during the conflict known as World War III.
One of many Joes listed on World War III member assignment map first seen in AE #28.

William "The Refridgerator" Perry was the second living person to have an action figure based on him. Like Sgt. Slaughter before him, Perry's figure was available through mail order. The figure was offered in 1986, the same year the Bears won the Super Bowl. They defeated the New England Patriots, who would be considered the home team of Hasbro, based in Rhode Island.
(
AE
25 (cover), 31;
Figure:

1)