"What? You wanna live forever?"
— Gung-Ho

Gung-Ho
was born on the bayou to a big cajun clan. His long list of siblings included his young sister who was a child model. Gung-Ho was a tough kid and later became known as a fierce brawler and knife-fighter in New Orleans. He joined the Marines at age 18, and graduated top-of-class from Parris Island. He went through additional training in Recondo School, Airborne School and Marine Ordinance School.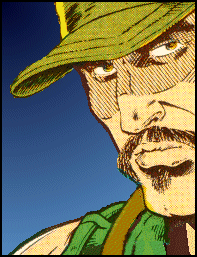 When the Army's
G.I. Joe team
was expanded to include members from other branches of the armed forces, Gung-Ho was one of the first new additions. On his first mission he was sent to Alaska to help a team of Joes prevent
Cobra
from poisoning the Alaskan oil pipeline. His new teammates didn't know what to make of this new Joe who went around bare-chested in the frozen wilderness and spoke with an on-again, off-again cajun accent. He soon gained their respect after proving himself a tough, brave (and just a bit crazy) fighter, charging into a group of Cobra troops and single-handedly besting them. Gung-Ho quickly became one of the team's most prominent members. He traveled to the small nation of Sierra Gordo, where he and a team of Joes ran afoul of a team of Cobras led by Dr. Venom and the
Baroness
. The Joes were nearly killed when the Baroness bombed the boat they were traveling in, and then destroyed an island bunker. It was believed the blast killed Snake-Eyes and the Joes went on without him. Gung-Ho snuck his way into a local radio station after hitching a ride in the back of a pig-herder's truck. He managed to persuade the station owner to let him radio Joe HQ for help. The team was soon extracted after a brief firefight.
Gung-Ho participated in many more missions, including fending off an attack on Washington, DC, and defending the Pit against a Cobra army. Gung-Ho became known for his great strength after, among other things, tearing the door off a sportscar (a "Cobra", of course) and pounding a support beam into place with his bare fists to stop a ceiling from collapsing. He was later injured by the Cobra agent Storm Shadow, when the ninja helped Cobra Commander escape from atop a mountain plateau where he was being held prisoner. As everyone expected, Gung-Ho recovered quickly and was back on duty. Later, he and several Joes fought a group of undercover Crimson Guardsmen at the Arbco Brothers Circus in Staten Island.

Gung-Ho again returned to Sierra Gordo on a mission to rescue American scientist Dr. Adele Burkhart. Teaming with Recondo and a group of native Tucaro tribesman, the mission succeeded after a firefight in the jungle. Immediately after the mission, the team traveled to the Gulf of Mexico where they joined a larger group of Joes in attempting to force Cobra off a newly-created island. The Joes fought a fierce battle, but were stopped short of victory when Cobra Island gained sovereignty thanks to Cobra's ambassadors. When Zartan infiltrated the Pit, the Joes had difficulty finding the master of disguise, who could change his appearance in seconds. During the search, Gung-Ho encountered Zartan in the guise of Duke. Gung-Ho realized he wasn't the real Duke when referred to him as "soldier". After chasing Zartan through the Pit's ventilation ducts, Gung-Ho fought the Cobra agent, who then assumed Gung-Ho's appearance to confuse the other Joes. Sergeant Slaughter punched out Zartan without knowing for certain which Gung-Ho was which. Both Gung-Ho and the Sarge were lucky Slaughter correctly chose Zartan to hit. Soon after Zartan's capture, the Joe team invaded the Cobra-controlled town of Springfield. Gung-Ho was part of the security team during the massive operation.
Gung-Ho was one of the first Joes on Cobra Island during the Cobra Island civil war. He was part of the recon team that took over the control tower at Cobra's airfield. This allowed a Joe landing force to arrive, starting a major campaign in which nearly the entire G.I. Joe team fought. When the operation failed, corrupt officers at the Pentagon charge covered up their involvement and claimed Generals Hawk and Hollingsworth acted without authorization. Gung-Ho and most of the team was placed under arrest, but were freed when the remaining members of the team freed Hawk and exposed the corrupt Generals. For the next several years, Gung-Ho served the Joes and remained one of their most valued members. When Cobra Commander attacked Joe headquarters in Utah, Gung-Ho was on the front line, fighting off waves of Battle Android Troopers with many other Joes. He sustained minor injuries in the battle, but Cobra's invasion was a failure. In his years on the team Gung-Ho was one of the Joes' fiercest fighters, but he retained a good sense of humor and was always a loyal friend to his teammates. Gung-Ho remained on the Joe team until it was disbanded in 1994.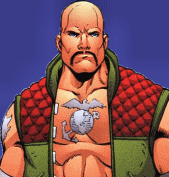 Shortly after the Joe team was shut down, Gung-Ho joined a small group of Joes for one last mission to deliver an important piece of equipment to a government installation. Chased across the country, they lost the device and had to track it down at Cobra's castle in Trans-Carpathia. In 2001, the G.I. Joe Team was reinstated by the government in reponse to Cobra's return to the United States. Duke brought many of the older Joes to help train and lead a batch of new recruits and Gung-Ho is now now one of the team's field commanders. In one of the new team's first missions, Gung-Ho lead a group of Joes through the swamps surrounding the Dreadnok compound in the Florida Everglades during their fight against Cobra's nano-mite threat. He later headed into the Czech Republic to rescue Flint and the Baroness from Russian gangsters, fighting alongside Destro's Iron Grenadiers. He was one of the many Joes involved in an invasion of Cobra Island to battle the forces of a revived Serpentor. Some time later, Gung-Ho was part of a team fighting Cobra forces that were drawn into an attack on a train guarded by the Joes, believing that Destro was being held prisoner onboard. At the battle's end, Hawk was shot in the back by Cobra Commander and paralyzed. In Hawk's absence, the Jugglers began to take control of the team to reign in it, if not disband it altogether. Eventually, the team's roster was cut down to only a dozen Joes including Gung-Ho. That small team defended the new Pit against Cobra's attack, but Gung-Ho and most of those Joes were quickly reassigned to other units. After the remaining Joes stopped a plot by Cobra to unleash the weapon known as the Tempest, and defeated a new threat, the Red Shadows, the military again disbanded the team.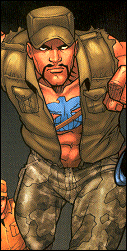 One year later, the Joe team was reformed with a smaller roster of active members. Gung-Ho, like most former Joes, was made a reserve member of the new team. Gung-Ho was called back to the team to assist Jinx in infiltrating the Tokyo headquarters of Hayatu Toba -- a Japanese businessman who was secretly building an Army to topple his country's government. Though the mission called for stealth and subterfuge, the only Joes available to assist Jinx were Clutch, Rock & Roll, Gung-Ho and Wild Bill -- none of whom are noted for their stealth or subtlety. Instead, they all posed as obnoxious businessmen meeting with Toba and started to fight amongst themselves in his office to distract security. They were soon captured and learned that Toba's group was involved with Destro's forces, represented by Armada. When Toba refused to follow her orders, she killed him and started the coup without him. As the rebel forces rolled through the streets of Tokyo, many of the soldiers turned on each other. Budo had worked to subvert many of them away from Toba's control, and they and the Joes put a stop to the attempted coup. Gung-Ho and his teammates decided to spend some extra time in Tokyo after the mission, no doubt getting into trouble on their own.

Artwork: G.I. JOE #126 (interior - dossier); G.I. JOE #74 (interior) by Ron Wagner and Randy Emberlin; G.I. JOE: Special Missions: Tokyo (cover) by Tim Seeley, Cliff Rathburn and Brian Buccelato.